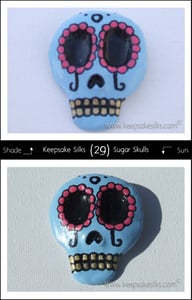 £

6.50
Image shows: Sugar Skull Hairclip - "Decorated"
- Base Colour: Periwinkle Blue (29)
- Flower Petal "eyes": Lush Pink (37)
Each Sugar Skull is moulded from an original design and then hand-painted. It measures approx, 6cm tall x 5cm wide x 60mm thick. The Sugar Skull is then sealed in a clear varnish to protect the design. The back of the Sugar Skull has a bobby pin to allow you to pop it in your hair (...or wear it as a badge on knitted tops).
P&P: UK £1.50 (First Class)
P&P: Rest of World £2.50 (discount on multiple orders)
You can select from one of 63 designs currently available... in either plain, glittered or decorated. Colours: White, Grey, Silver, Gold, Bronze, Yellow, Green, Blue, Purple, Pink, Red, Orange, Brown & Black.
... or alternatively, you can pre-order one by sending me your colour/design requirements. (Note: depending on how many pre-orders I receive will determine how quick I can get them posted as I make each one by hand. I will keep you informed though).
Email me your selection/special requirements... enquiries@keepsakesilks.com